{ "item_title" : "Crossings", "item_author" : [" Alex Landragin "], "item_description" : "A sparkling debut. Landragin's seductive literary romp shines as a celebration of the act of storytelling. --Publishers WeeklyRomance, mystery, history, and magical invention dance across centuries in an impressive debut novel. --Kirkus Reviews (Starred Review)Deft writing seduces the reader in a complex tale of pursuit, denial, and retribution moving from past to future. Highly recommended. --Library Journal (Starred Review)Alex Landragin's Crossings is an unforgettable and explosive genre-bending debut--a novel in three parts, designed to be read in two different directions, spanning a hundred and fifty years and seven lifetimes. On the brink of the Nazi occupation of Paris, a German-Jewish bookbinder stumbles across a manuscript called Crossings. It has three narratives, each as unlikely as the next. And the narratives can be read one of two ways: either straight through or according to an alternate chapter sequence. The first story in Crossings is a never-before-seen ghost story by the poet Charles Baudelaire, penned for an illiterate girl. Next is a noir romance about an exiled man, modeled on Walter Benjamin, whose recurring nightmares are cured when he falls in love with a storyteller who draws him into a dangerous intrigue of rare manuscripts, police corruption, and literary societies. Finally, there are the fantastical memoirs of a woman-turned-monarch whose singular life has spanned seven generations. With each new chapter, the stunning connections between these seemingly disparate people grow clearer and more extraordinary. Crossings is an unforgettable adventure full of love, longing and empathy.", "item_img_path" : "https://covers3.booksamillion.com/covers/bam/1/25/025/904/1250259045_b.jpg", "price_data" : { "retail_price" : "27.99", "online_price" : "27.99", "our_price" : "27.99", "club_price" : "27.99", "savings_pct" : "0", "savings_amt" : "0.00", "club_savings_pct" : "0", "club_savings_amt" : "0.00", "discount_pct" : "10", "store_price" : "" } }
Overview
A sparkling debut. Landragin's seductive literary romp shines as a celebration of the act of storytelling. --Publishers Weekly
Romance, mystery, history, and magical invention dance across centuries in an impressive debut novel.
--Kirkus Reviews (Starred Review)Deft writing seduces the reader in a complex tale of pursuit, denial, and retribution moving from past to future. Highly recommended.
--Library Journal (Starred Review)

Alex Landragin's Crossings is an unforgettable and explosive genre-bending debut--a novel in three parts, designed to be read in two different directions, spanning a hundred and fifty years and seven lifetimes.
On the brink of the Nazi occupation of Paris, a German-Jewish bookbinder stumbles across a manuscript called
Crossings
. It has three narratives, each as unlikely as the next. And the narratives can be read one of two ways: either straight through or according to an alternate chapter sequence. The first story in
Crossings
is a never-before-seen ghost story by the poet Charles Baudelaire, penned for an illiterate girl. Next is a noir romance about an exiled man, modeled on Walter Benjamin, whose recurring nightmares are cured when he falls in love with a storyteller who draws him into a dangerous intrigue of rare manuscripts, police corruption, and literary societies. Finally, there are the fantastical memoirs of a woman-turned-monarch whose singular life has spanned seven generations. With each new chapter, the stunning connections between these seemingly disparate people grow clearer and more extraordinary.
Crossings
is an unforgettable adventure full of love, longing and empathy.
Details
ISBN-13: 9781250259042
ISBN-10: 1250259045
Publisher: St. Martin's Press
Publish Date: July 2020
Dimensions: 9.4 x 6.6 x 1.3 inches
Shipping Weight: 1.3 pounds
Page Count: 384
Related Categories
BookPage® Reviews
8 major debuts of the summer
Summer 2020 has been a season of big shifts, including in the world of fiction. We're delighted to give a warm welcome to these new voices and their debut novels.
---
Cherie Dimaline, author of Empire of Wild
The author: Writer and activist Cherie Dimaline is a member of the Georgian Bay Métis Community in Ontario. She has published five books in Canada and makes her U.S. adult debut with Empire of Wild.
The book: Drawing inspiration from legends of the werewolf-like rougarou, Dimaline's powerful and inventive novel follows a woman who is searching for the truth behind her husband's mysterious disappearance and even more suspicious return.
For fans of: Literary thrillers that draw from the author's cultural heritage, such as LaRose by Louise Erdrich.
Read it for: Indigenous empowerment and a flawless mixture of supernatural events and realistic characters.
---
Raven Leilani, author of Luster
The author: A former student of Zadie Smith (who hyped Luster earlier this year in Harper's Bazaar), Raven Leilani has won multiple prizes for her fiction and poetry and is the Axinn Foundation Writer-in-Residence at NYU.
The book: This gritty novel explores many appetites—for sex, companionship, attention and money—and what happens when those lusts are sated.
For fans of: Spike Lee's 2017 reboot of She's Gotta Have It and heavy-hitting millennial writers like Ling Ma and Catherine Lacey.
Read it for: Leilani's cerebral, raw writing and keen social observations—especially about the truths that some people don't want to see.
---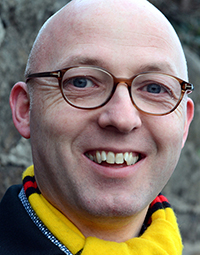 Rónán Hession, author of Leonard and Hungry Paul
The author: Dublin-based author Rónán Hession is a social worker and songwriter who has released three lyrical acoustic albums as Mumblin' Deaf Ro.
The book: Hession explores the ordinary lives of two everyday guys in their 30s. Leonard's mom has just died, and he's working through his grief and loneliness. Hungry Paul lives at home with his parents and is occasionally accosted with motivational speeches by his older sister. These two lifelong friends go to work (or not, as the case may be), meet new people, try new things—the stuff of everyday life.
For fans of: Stories of lives well lived from Maeve Binchy and Mark Haddon.
Read it for: The reminder that we're all just doing our best. Simple and straightforward stories often get overlooked in our noisy world, but not by Hession.
---
Alex Landragin, author of Crossings
The author: French Armenian Australian writer Alex Landragin is a former author of Lonely Planet travel guides.
The book: Crossings is composed of three imaginative tales: a ghost story written by Charles Baudelaire, a German Jewish exile's dark love story on the precipice of the Nazi invasion of Paris and a memoir by a woman who lives through seven generations. The reader can read each story individually or follow the "Baroness" style, following directions to leap between the three tales.
For fans of: Books that play with storytelling structure, like Kate Atkinson's Life After Life or Mark Z. Danielewski's House of Leaves.
Read it for: The totally unexpected reading experience, which is as incredibly fun as it is nuanced and engaging.
---
Charlotte McConaghy, author of Migrations
The author: Charlotte McConaghy has published eight books in her native Australia and has worked in script development for film and TV for several years.
The book: Set in a near-future world that's facing the mass extinction of animals, McConaghy's U.S. debut follows a young woman named Franny who, grappling with a lifelong inability to define the nature of home, joins a fishing crew to follow the last migration of Arctic terns.
For fans of: Emotionally resonant tales like Disappearing Earth by Julia Phillips and H Is for Hawk by Helen Macdonald.
Read it for: A message of hope when all feels hopeless.
---
Lysley Tenorio, author of The Son of Good Fortune
The author: Lysley Tenorio is a Filipino American professor at Saint Mary's College of California whose stories have been adapted for the stage in New York City and San Francisco.
The book: Excel, a young Filipino immigrant living in California, lives paycheck to paycheck with his mother, a former low-budget movie star who now scams men online. When Excel meets a girl named Sab, the two run away and find themselves at the whimsical desert community of Hello City.
For fans of: Unique perspectives of the immigrant experience, such as The Leavers by Lisa Ko.
Read it for: A powerful examination of the bond between mother, son and motherland.
---
Sanaë Lemoine, author of The Margot Affair
The author: Born in Paris to a Japanese mother and French father, Sanaë Lemoine was raised in France and Australia. She now lives in New York, where she has worked as a recipe writer and cookbook editor.
The book: Margot Louve is the product of a long affair between a married public figure and a well-known actress. In her final year of high school, Margot decides that she is ready to expose the lie and go public with her story—anonymously.
For fans of: Stories of young women searching for truth, such as Saltwater by Jessica Andrews and Actress by Anne Enright.
Read it for: A realistic Parisian atmosphere and complicated, nuanced female characters.
---
Odie Lindsey, author of Some Go Home
The author: Combat veteran Odie Lindsey is the Writer-in-Residence at Vanderbilt University's Center for Medicine, Health, and Society.
The book: Inspired by the author's work as an editor of the Mississippi Encyclopedia, Some Go Home is set in the fictional town of Pitchlynn, Mississippi, where white residents are forced to face buried truths during a retrial for the violent, decades-old murder of a Black man.
For fans of: The Bitter Southerner and Southern novels that wrestle with the region's complicated, brutal history.
Read it for: Reflections on how the sins of our ancestors replay in our own lives.
---
Cherie Dimaline photo by Wenzdae Brewster. Raven Leilani photo by Evan Davis. Rónán Hession photo by Barry Delany. Alex Landragin photo by Helga Salwe. Charlotte McConaghy photo by Emma Daniels. Lysley Tenorio photo by Laura Bianchi. Sanaë Lemoine photo by Gieves Anderson. Odie Lindsey photo by Dana DeLoca.