{ "item_title" : "Luster", "item_author" : [" Raven Leilani "], "item_description" : "AN INSTANT NEW YORK TIMES BESTSELLERA New York Times Notable Book of the YearWINNER of the NBCC John Leonard Prize, the Kirkus Prize, the Center for Fiction First Novel Prize, the Dylan Thomas Prize, and the VCU Cabell First Novelist Award One of Barack Obama's Favorite Books of 2020A BEST BOOK OF THE YEAR: NPR, The New York Times Book Review, O Magazine, Vanity Fair, Los Angeles Times, Glamour, Shondaland, Boston Globe, and many more So delicious that it feels illicit . . . Raven Leilani's first novel reads like summer: sentences like ice that crackle or melt into a languorous drip; plot suddenly, wildly flying forward like a bike down a hill. --Jazmine Hughes, The New York Times Book Review No one wants what no one wants.And how do we even know what we want? How do we know we're ready to take it? Edie is stumbling her way through her twenties--sharing a subpar apartment in Bushwick, clocking in and out of her admin job, making a series of inappropriate sexual choices. She is also haltingly, fitfully giving heat and air to the art that simmers inside her. And then she meets Eric, a digital archivist with a family in New Jersey, including an autopsist wife who has agreed to an open marriage--with rules. As if navigating the constantly shifting landscapes of contemporary sexual manners and racial politics weren't hard enough, Edie finds herself unemployed and invited into Eric's home--though not by Eric. She becomes a hesitant ally to his wife and a de facto role model to his adopted daughter. Edie may be the only Black woman young Akila knows. Irresistibly unruly and strikingly beautiful, razor-sharp and slyly comic, sexually charged and utterly absorbing, Raven Leilani's Luster is a portrait of a young woman trying to make sense of her life--her hunger, her anger--in a tumultuous era. It is also a haunting, aching description of how hard it is to believe in your own talent, and the unexpected influences that bring us into ourselves along the way. An irreverent intergenerational tale of race and class that's blisteringly smart and fan-yourself sexy. --Michelle Hart, O: The Oprah Magazine", "item_img_path" : "https://covers2.booksamillion.com/covers/bam/0/37/419/432/0374194327_b.jpg", "price_data" : { "retail_price" : "26.00", "online_price" : "26.00", "our_price" : "26.00", "club_price" : "26.00", "savings_pct" : "0", "savings_amt" : "0.00", "club_savings_pct" : "0", "club_savings_amt" : "0.00", "discount_pct" : "10", "store_price" : "" } }
local_shipping
For Delivery
In Stock.
FREE Shipping for Club Members
help
Overview
AN INSTANT NEW YORK TIMES BESTSELLER
A New York Times Notable Book of the Year
WINNER of the NBCC John Leonard Prize, the Kirkus Prize, the Center for Fiction First Novel Prize, the Dylan Thomas Prize, and the VCU Cabell First Novelist Award
One of Barack Obama's Favorite Books of 2020
A BEST BOOK OF THE YEAR: NPR, The New York Times Book Review, O Magazine, Vanity Fair, Los Angeles Times, Glamour, Shondaland, Boston Globe, and many more
"So delicious that it feels illicit . . . Raven Leilani's first novel reads like summer: sentences like ice that crackle or melt into a languorous drip; plot suddenly, wildly flying forward like a bike down a hill." --Jazmine Hughes, The New York Times Book Review
No one wants what no one wants.
And how do we even know what we want? How do we know we're ready to take it? Edie is stumbling her way through her twenties--sharing a subpar apartment in Bushwick, clocking in and out of her admin job, making a series of inappropriate sexual choices. She is also haltingly, fitfully giving heat and air to the art that simmers inside her. And then she meets Eric, a digital archivist with a family in New Jersey, including an autopsist wife who has agreed to an open marriage--with rules. As if navigating the constantly shifting landscapes of contemporary sexual manners and racial politics weren't hard enough, Edie finds herself unemployed and invited into Eric's home--though not by Eric. She becomes a hesitant ally to his wife and a de facto role model to his adopted daughter. Edie may be the only Black woman young Akila knows. Irresistibly unruly and strikingly beautiful, razor-sharp and slyly comic, sexually charged and utterly absorbing, Raven Leilani's
Luster
is a portrait of a young woman trying to make sense of her life--her hunger, her anger--in a tumultuous era. It is also a haunting, aching description of how hard it is to believe in your own talent, and the unexpected influences that bring us into ourselves along the way.
"An irreverent intergenerational tale of race and class that's blisteringly smart and fan-yourself sexy." --Michelle Hart, O: The Oprah Magazine
Details
ISBN-13: 9780374194321
ISBN-10: 0374194327
Publisher: Farrar, Straus and Giroux
Publish Date: August 2020
Dimensions: 8.3 x 5.7 x 1 inches
Shipping Weight: 0.8 pounds
Page Count: 240
BookPage® Reviews
8 major debuts of the summer
Summer 2020 has been a season of big shifts, including in the world of fiction. We're delighted to give a warm welcome to these new voices and their debut novels.
---
Cherie Dimaline, author of Empire of Wild
The author: Writer and activist Cherie Dimaline is a member of the Georgian Bay Métis Community in Ontario. She has published five books in Canada and makes her U.S. adult debut with Empire of Wild.
The book: Drawing inspiration from legends of the werewolf-like rougarou, Dimaline's powerful and inventive novel follows a woman who is searching for the truth behind her husband's mysterious disappearance and even more suspicious return.
For fans of: Literary thrillers that draw from the author's cultural heritage, such as LaRose by Louise Erdrich.
Read it for: Indigenous empowerment and a flawless mixture of supernatural events and realistic characters.
---
Raven Leilani, author of Luster
The author: A former student of Zadie Smith (who hyped Luster earlier this year in Harper's Bazaar), Raven Leilani has won multiple prizes for her fiction and poetry and is the Axinn Foundation Writer-in-Residence at NYU.
The book: This gritty novel explores many appetites—for sex, companionship, attention and money—and what happens when those lusts are sated.
For fans of: Spike Lee's 2017 reboot of She's Gotta Have It and heavy-hitting millennial writers like Ling Ma and Catherine Lacey.
Read it for: Leilani's cerebral, raw writing and keen social observations—especially about the truths that some people don't want to see.
---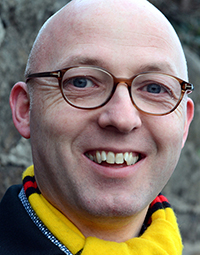 Rónán Hession, author of Leonard and Hungry Paul
The author: Dublin-based author Rónán Hession is a social worker and songwriter who has released three lyrical acoustic albums as Mumblin' Deaf Ro.
The book: Hession explores the ordinary lives of two everyday guys in their 30s. Leonard's mom has just died, and he's working through his grief and loneliness. Hungry Paul lives at home with his parents and is occasionally accosted with motivational speeches by his older sister. These two lifelong friends go to work (or not, as the case may be), meet new people, try new things—the stuff of everyday life.
For fans of: Stories of lives well lived from Maeve Binchy and Mark Haddon.
Read it for: The reminder that we're all just doing our best. Simple and straightforward stories often get overlooked in our noisy world, but not by Hession.
---
Alex Landragin, author of Crossings
The author: French Armenian Australian writer Alex Landragin is a former author of Lonely Planet travel guides.
The book: Crossings is composed of three imaginative tales: a ghost story written by Charles Baudelaire, a German Jewish exile's dark love story on the precipice of the Nazi invasion of Paris and a memoir by a woman who lives through seven generations. The reader can read each story individually or follow the "Baroness" style, following directions to leap between the three tales.
For fans of: Books that play with storytelling structure, like Kate Atkinson's Life After Life or Mark Z. Danielewski's House of Leaves.
Read it for: The totally unexpected reading experience, which is as incredibly fun as it is nuanced and engaging.
---
Charlotte McConaghy, author of Migrations
The author: Charlotte McConaghy has published eight books in her native Australia and has worked in script development for film and TV for several years.
The book: Set in a near-future world that's facing the mass extinction of animals, McConaghy's U.S. debut follows a young woman named Franny who, grappling with a lifelong inability to define the nature of home, joins a fishing crew to follow the last migration of Arctic terns.
For fans of: Emotionally resonant tales like Disappearing Earth by Julia Phillips and H Is for Hawk by Helen Macdonald.
Read it for: A message of hope when all feels hopeless.
---
Lysley Tenorio, author of The Son of Good Fortune
The author: Lysley Tenorio is a Filipino American professor at Saint Mary's College of California whose stories have been adapted for the stage in New York City and San Francisco.
The book: Excel, a young Filipino immigrant living in California, lives paycheck to paycheck with his mother, a former low-budget movie star who now scams men online. When Excel meets a girl named Sab, the two run away and find themselves at the whimsical desert community of Hello City.
For fans of: Unique perspectives of the immigrant experience, such as The Leavers by Lisa Ko.
Read it for: A powerful examination of the bond between mother, son and motherland.
---
Sanaë Lemoine, author of The Margot Affair
The author: Born in Paris to a Japanese mother and French father, Sanaë Lemoine was raised in France and Australia. She now lives in New York, where she has worked as a recipe writer and cookbook editor.
The book: Margot Louve is the product of a long affair between a married public figure and a well-known actress. In her final year of high school, Margot decides that she is ready to expose the lie and go public with her story—anonymously.
For fans of: Stories of young women searching for truth, such as Saltwater by Jessica Andrews and Actress by Anne Enright.
Read it for: A realistic Parisian atmosphere and complicated, nuanced female characters.
---
Odie Lindsey, author of Some Go Home
The author: Combat veteran Odie Lindsey is the Writer-in-Residence at Vanderbilt University's Center for Medicine, Health, and Society.
The book: Inspired by the author's work as an editor of the Mississippi Encyclopedia, Some Go Home is set in the fictional town of Pitchlynn, Mississippi, where white residents are forced to face buried truths during a retrial for the violent, decades-old murder of a Black man.
For fans of: The Bitter Southerner and Southern novels that wrestle with the region's complicated, brutal history.
Read it for: Reflections on how the sins of our ancestors replay in our own lives.
---
Cherie Dimaline photo by Wenzdae Brewster. Raven Leilani photo by Evan Davis. Rónán Hession photo by Barry Delany. Alex Landragin photo by Helga Salwe. Charlotte McConaghy photo by Emma Daniels. Lysley Tenorio photo by Laura Bianchi. Sanaë Lemoine photo by Gieves Anderson. Odie Lindsey photo by Dana DeLoca.