{ "item_title" : "Wonder Walkers", "item_author" : [" Micha Archer", "Micha Archer "], "item_description" : "A Caldecott Honor winnerMicha Archer's gorgeous, detailed collages give readers a fresh outlook on the splendors of nature. Cover may vary. When two curious kids embark on a wonder walk, they let their imaginations soar as they look at the world in a whole new light. They have thought-provoking questions for everything they see: Is the sun the world's light bulb? Is dirt the world's skin? Are rivers the earth's veins? Is the wind the world breathing? I wonder . . . Young readers will wonder too, as they ponder these gorgeous pages and make all kinds of new connections. What a wonderful world indeed", "item_img_path" : "https://covers2.booksamillion.com/covers/bam/0/59/310/964/0593109643_b.jpg", "price_data" : { "retail_price" : "18.99", "online_price" : "18.99", "our_price" : "18.99", "club_price" : "18.99", "savings_pct" : "0", "savings_amt" : "0.00", "club_savings_pct" : "0", "club_savings_amt" : "0.00", "discount_pct" : "10", "store_price" : "18.99" } }
Overview
A Caldecott Honor winnerMicha Archer's gorgeous, detailed collages give readers a fresh outlook on the splendors of nature. Cover may vary. When two curious kids embark on a "wonder walk," they let their imaginations soar as they look at the world in a whole new light. They have thought-provoking questions for everything they see: Is the sun the world's light bulb? Is dirt the world's skin? Are rivers the earth's veins? Is the wind the world breathing? I wonder . . . Young readers will wonder too, as they ponder these gorgeous pages and make all kinds of new connections. What a wonderful world indeed
Details
ISBN-13: 9780593109649
ISBN-10: 0593109643
Publisher: Nancy Paulsen Books
Publish Date: March 2021
Dimensions: 9.2 x 10.2 x 0.5 inches
Shipping Weight: 0.85 pounds
Page Count: 32
Reading Level: Ages 3-7
Related Categories
BookPage® Reviews
Make every day Earth Day
Climb a tree, splash in a creek, dig in the dirt, bask in the sun—and take these wonder-filled books along as you discover all the marvels of nature and explore our responsibility to preserve and protect this beautiful planet.
Once Upon Another Time
To introduce a child to Earth's natural splendor, start with Once Upon Another Time. This poetic ode, written by Charles Ghigna and Matt Forrest Esenwine, is short on text but packs an understated, powerful punch about stewardship. Without an ounce of sanctimony, it vitally conveys how humans have transformed Earth's landscape.
Opening with idyllic scenes of snowy mountain peaks, rivers running through golden canyons and wild animals grazing in a lush valley, the book pivots to show how humans have filled these vistas with highways, skyscrapers, smog and machinery. Andrés F. Landazábal's luminous illustrations span the long sweep of history, depicting everything from the cosmos, when "Earth and moon / and stars awakened," to a modern cityscape observed by a child through their apartment window.
Once Upon Another Time concludes with a stirring call to action, urging readers to "take a step outdoors. / Breathe in air that once was shared / by monstrous dinosaurs!" Scenes of kids playing in a city park, exploring a meadow and camping under the stars will appeal to readers' senses, urging them to hold an oak leaf, taste the rain, smell the clover and listen to the bees. This stellar book is sure to send kids outdoors equipped with new ways of observing and appreciating their surroundings.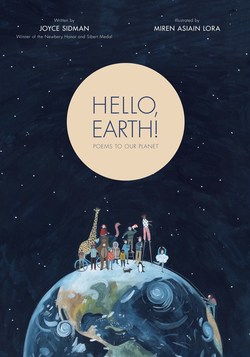 Hello, Earth!
For readers ready to dig a little deeper, Hello, Earth! Poems to Our Planet is the perfect next step. In a collection of appealing and accessible poems, Newbery Honor author Joyce Sidman examines geology, the solar system, natural history and geography. Several pages of back matter, including short scientific explanations of each poem and website links and suggestions for further reading, complete the package.
Sidman's verses zoom through our planet's long history, with stops in a jungle teeming with wildlife, a seemingly barren desert and more. In "Big and Small," Sidman writes, "We need to figure out / the way / we fit together." Many of the poems gently speak to the need for respect: "Earth, / you are our ship / through light / and darkness. / We will honor you."
Miren Asiain Lora's art depicts vast spaces in which humans are small figures amid wide-angle landscapes, a subtle but effective reminder of our place in this big world. Her spreads are bathed in slate blues and earth tones, so splashes of warmth from erupting volcanoes or the beams of a lighthouse really pop. Hello, Earth! is an excellent handbook for the youngest of Earth's caretakers.
★ Wonder Walkers
Yearning to transform an ordinary day into an extraordinary adventure? Micha Archer's Wonder Walkers is an exceptional, radiant tribute to the power of curiosity.
On a bright, sunny day, a girl and a boy lounge inside on the couch and pose a magical question: "Wonder walk?" This is their code for a special journey they've obviously taken many times before. Once outside, they ask—but don't answer—a series of "wonder" questions that are guaranteed to perplex and delight: "Is the sun the world's light bulb?" "Are trees the sky's legs?" "Is the wind the world breathing?"
Archer's exceptional collage illustrations are full of vibrant colors and textures, from striations in underground rocks and roots to swirling clouds at sunset. This book is about not only observing and pondering but also actively exploring, and on page after page, the young explorers peer into a cave, climb a massive tree, run through a valley and sink their toes into a sandy beach. Wonder Walkers is chock-full of joy, beauty and creative thinking, certain to encourage young readers to head straight outside and dream up their own imaginative questions.
★ Fatima's Great Outdoors
For the ultimate outdoor adventure, nothing beats a camping trip. In Fatima's Great Outdoors, Fatima Khazi is looking forward to her first such expedition after a difficult week at school dealing with microaggressions from her classmates and culminating in a bad grade on her math quiz. On the drive to the campground, excitement builds as Fatima, her parents and her older sister snack on homemade samosas and belt out Bollywood tunes.
Once the family arrives at the state park, things don't exactly go smoothly. Fatima's father puzzles over tent setup until Fatima suggests they read the instructions, and then she has a hard time falling asleep after spotting the frightening shadow of a spider. Despite the setbacks she encounters, Fatima's time spent in nature, which includes wilderness chores like gathering kindling, makes her feel like a "superhero" and reminds her of "how she used to feel in India: She had fun, she didn't feel sad or scared, and she loved how adventure was around every corner."
Ambreen Tariq's writing is buoyant and full of wonderfully specific details, such as Papa's "bear claw" hand on Fatima's shoulder and Mama's fearlessness in the face of creepy-crawlies. Stevie Lewis' illustrations make each page sing, and her background in film animation especially shines when depicting the Khazis' emotive faces. Lewis' use of light is also splendid, from the golden glow of late afternoon sun through the trees' canopy to the tiny sparkles of fireflies under the gleaming moonlight.
A closing spread shows the Khazis posing for a photo on a beach near a group of people holding a banner that reads, "Brown People Camping," a real organization founded by Tariq to promote diversity in the outdoors. Fatima's Great Outdoors seamlessly combines a celebration of adventures in nature with the story of an Indian American family navigating their new life in the United States.
Treaty Words
Treaty Words: For as Long as the Rivers Flow is an unusual book. At 60 pages, it's longer than most picture books, and with minimal text, it takes its time in a quiet, purposeful way, just like the flowing river at the heart of its story about an Indigenous girl and her Mishomis (grandfather) who spend a day together by the river in front of his home.
The granddaughter is a city girl, but her Mishomis' small parcel of land is "the closest thing to home for her." Not only is her Mishomis an outdoorsman, backpacking for six weeks each spring, but he's also actively involved in a host of environmental projects, including sturgeon restocking and territorial mapping. On this spring day, as they listen to the sounds of trees rustling, geese honking overhead and ice breaking on the river, the girl recognizes the "privilege to be there in that moment, witnessing this intense transition."
Author Aimée Craft's language is exquisitely lyrical. An Anishinaabe/Métis lawyer in Manitoba, Canada, a professor at the University of Ottawa and a leading researcher on Indigenous law, Craft writes beautifully about our responsibilities as Earth's caretakers and the importance of treaties, which Mishomis calls "the basis of all relationships."
Anishinaabe illustrator Luke Swinson uses seemingly simple shapes filled with gentle gradients of color; there's a stillness to them that perfectly complements Craft's text. This contemplative book is reminiscent of a great sermon, providing a springboard for deep thought. As Craft writes, "Every person was born with a set of spiritual instructions or understandings, my girl. It's what we do with it that defines us as human beings."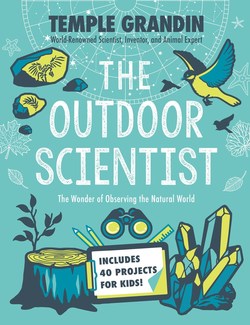 The Outdoor Scientist
Imagine having a chance to roam around with Temple Grandin, a Colorado State University professor renowned for her pioneering research on animal behavior and her work as an autism spokesperson. That's exactly the treat in store for readers of The Outdoor Scientist: The Wonder of Observing the Natural World. This unique book is memoir, science guide and activity book all rolled into one. Perfect for independent readers, it's Grandin's personal invitation for children to become citizen scientists while exploring nature. The many projects she suggests (seashell wind chimes, pine cone animals and so on) are straightforward, with no fancy equipment required.
"I've always been curious about pretty much everything in nature, especially when some sleuthing is required," Grandin writes. As a kid, the outdoors were her sanctuary, "away from everyone trying to make me catch up in reading and writing." Grandin's childhood stories are fun as well as fascinating, as she describes hours spent unsupervised, playing and exploring with her siblings—and family photos are included.
Discussions in each of the book's six chapters (rocks, the beach, the woods, birds, the night skies and animal behavior) are wonderfully far-reaching, spanning everything from the pet rock craze of the 1970s to whether marbles are made of marble. Each subject transitions effortlessly to the next. Short sidebar biographies touch on other relevant scientists as well, emphasizing their childhoods and including kid-friendly facts. Did you know, for instance, that Charles Darwin was seasick nearly every day during the five years he spent aboard the Beagle?
Grandin's enthusiasm for citizen science is contagious, and readers of all ages will adore spending time with The Outdoor Scientist. After all, as Grandin reminds us, "You don't have to be a professor or a professional" to make a difference—"just someone who cares about the environment."